>> Wednesday, February 10, 2010
My faithful friends at The Crazy Hip Bloggers have let me down this week. (Not really, I'm just teasing.) We have no topic for Write Out Loud Wednesday. (Actually, let's be brutal. The topic probably existed at the time I wrote this blog, but I was too dumb to find it on the website since it wasn't in the dummy-list on the sidebar. Nonetheless, my fellow bloggers posted last week and this week, but I missed it. Rats.) Never fear -- I have stolen yesterday's photograph topic for "Take It Tuesday" and am making my own Take It Tuesday/Write Out Loud Wednesday Combo post so we can keep it going.

The topic is"Simple Things".

This is my semi-feral cat "Princess".




Princess lives outside in my backyard and helps me keep my house free from mice. Princess needs only simple things to get by, food, shelter, and a kind word now and then. She looks domestic, and she sometimes pretends to be domestic, but she really isn't. Very few people can ever touch her, and only just a little bit, and she isn't all that fond of litter boxes either. She prefers to keep her distance, but she does like to chat quite a bit.

While Princess needs only simple things, what Princess wants is a little bit more than that. She used to be content with food, shelter, and a kind word. Now she wants food on demand, a heater in her cat house, a kitty-door into the garage for when the ground is all wet and yucky, and someone to stop the birds from eating all her food now that her brother is gone because her buddy Louis isn't quite the birder her brother used to be. (We have some pretty obnoxious birds, if I do say so myself.)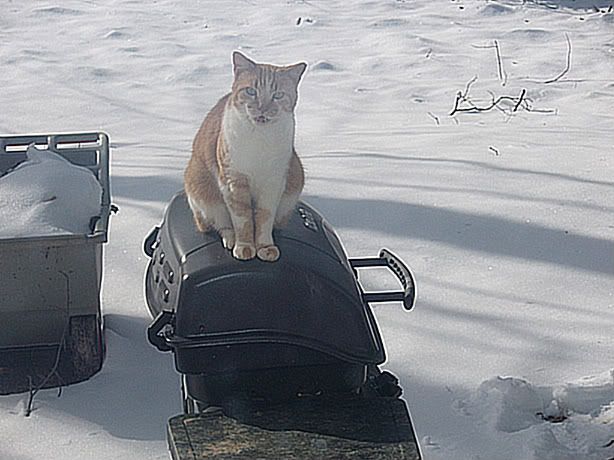 This is Princess yelling at me through the glass doors just yesterday. As you can see, there is still snow on the ground, and she is not too pleased with this fact. The birds have eaten the food she left "for later," and she wants to know what I am going to do about it. I am not satisfying her wants and needs in an acceptable manner, and she is letting me hear about it.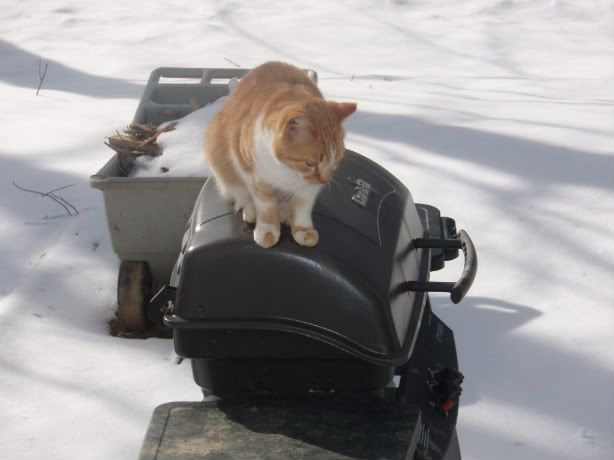 I opened the door to take her picture, and she thought I was coming to do something about her complaints. She said, "Hold on, Mom, I'll be right there." And then she got a bit flummoxed trying to figure out how to get to the door without getting her feet all cold and wet again. For an outdoor cat, she is rather spoiled.

As it turns out, Princess had an idea. She wants food, shelter, and kind words in a more pleasing environment. She wants warmth all around instead of merely warmth from her heating pad and her buddy Louis. She wants food available without fear of birds. She wants water without leaves floating in it, and she wants servants at her beck and call. In other words, she thinks it is about time to live up to her name. After all, she has the attitude for it.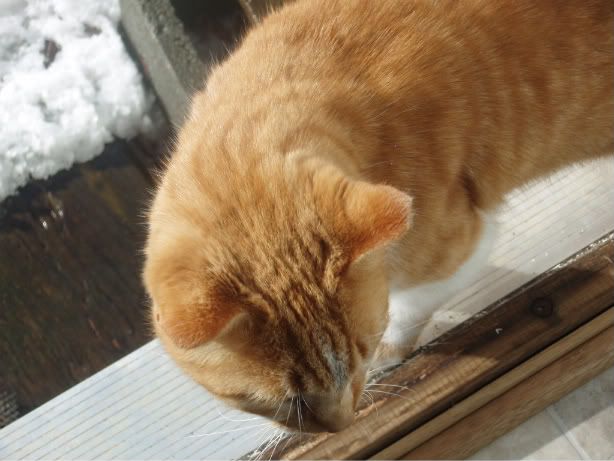 When she came over to the door, the full extent of her plot became clear. She wanted inside. In fact, I had to move quickly to keep her from crossing the threshold (because how do you remove a cat that doesn't want to be removed and will not tolerate anyone touching her?).

Alright, your royal catness, let's get one thing straight. I will give you food and shelter, and you have even suckered me into giving you a kitty heating pad. I will not, however, be providing you any food and/or shelter inside my house. I already have one more cat than I ever wanted and three more than my sister will allow me to keep. I'll tell you what ... I'll crack the door of the garage anytime the temperature drops below 20. Deal?

Sorry, sweetie. You may be the longest-resident cat at this house, but you are staying outside.

That's where the mice are, and with your help, that is where they will stay.

Author's note: The above blog was written before the last two snow storms. Now not only is there no grass in sight, Princess can no longer jump on the grill, and we had to shovel her a path from her house to the step. And, yes, like good cat-servants, we shoveled her out first.